Both Mom and Baby Can Benefit From Chiropractic Care
Moms-to-be
probably haven't given their babies' spines much consideration, but Dr. Mike
Motel, Chiropractor and owner of Ascend Chiropractic in downtown Bellingham,
would like them to.
"The process of
giving birth is super hard on the baby in general," he says, "so having the
baby checked to make sure they are in proper alignment can help them thrive."
Dr. Mike says a Chiropractic
adjustment early on may resolve common baby ailments, like colic or
constipation, often in one visit. It's also not uncommon for babies to have
trouble latching when they are nursing, and Chiropractic may also help the baby
and mama with this.
Dr. Mike shares
that one little patient recently wasn't able to turn her head to one side,
which meant she couldn't latch properly when nursing. After one adjustment, the
baby was able to turn her head, and subsequent follow up appointments have
insured she continues to improve.
Pediatric
adjustments are very different from that of adults, Dr. Mike says. "The
adjustments are very light and gentle. We compare it, basically, to checking
the ripeness of a tomato. It's not the kind of adjustment that you might get as
an adult; it's more like holding a constant, gentle pressure."
Mothers typically
express surprise at just how gentle it is, he adds. "When I put the same amount
of pressure on a mom's arm, she usually says, 'You're barely even touching
me!'"
And babies don't
seem to mind at all: "We have babies sleep through their adjustments all the
time," says Dr. Mike.
Chiropractic care
is just as important for expectant and new mothers, Dr. Mike adds. In general,
pregnancy is tough on the woman's skeletal structure, and Chiropractic may remove
the back pain associated with pregnancy.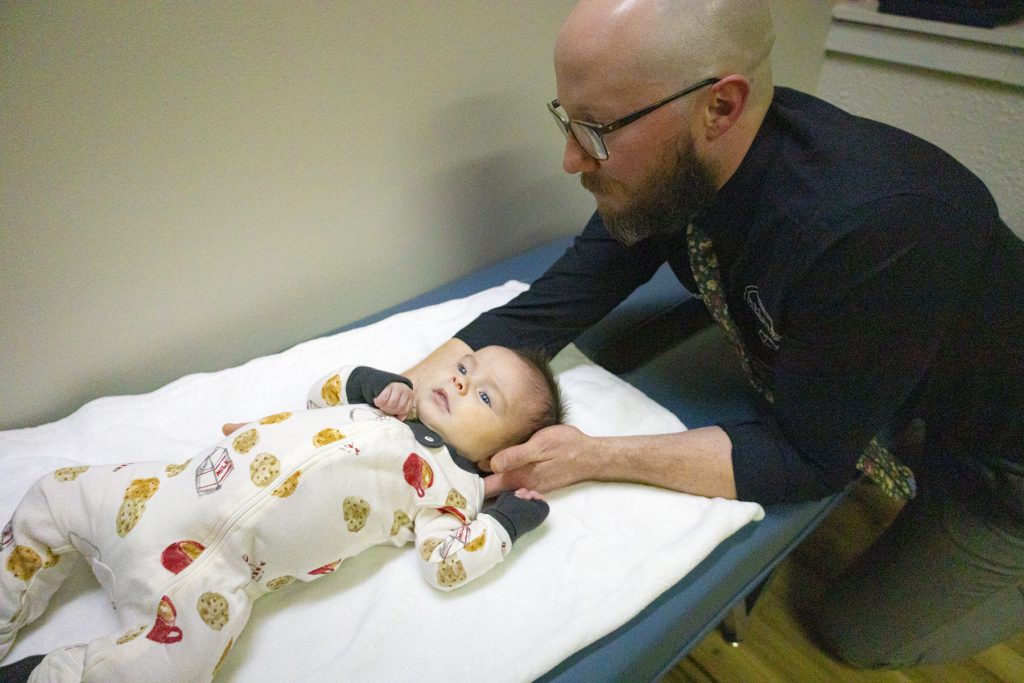 As the baby grows
and gets heavier, the weight of the belly changes a woman's posture and spinal
curvature.
"If that ends up
resulting in the pelvis being misaligned, that makes for a smaller space for
the baby to move and grow," says Dr. Mike. "If the mother stays in proper
alignment, labor and delivery should be easier on their body in general."
The benefits of Chiropractic
continue after pregnancy, when the demands of bending and lifting the baby take
over. Mothers also frequently end up tweaking themselves to find just the right
position that works best for breastfeeding the baby.
One of Dr. Mike's
patients, María Pérez de Henderson, considered him part of her prenatal care
team. Then, when she found herself in the emergency room shortly after giving
birth due to severe edema (swelling) in her legs, she called on him again.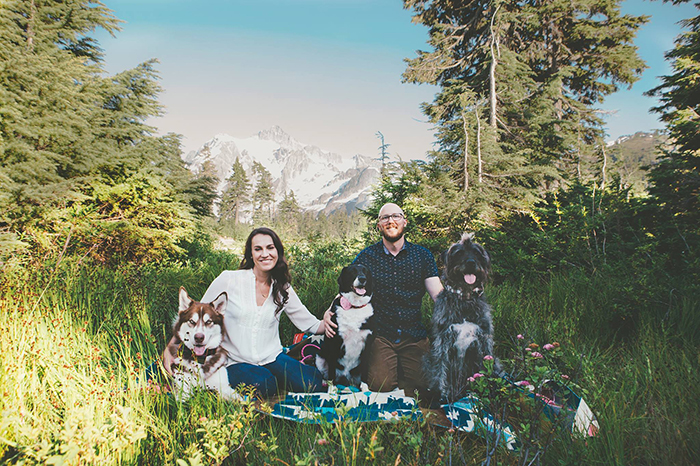 "Hours after
being adjusted, the edema was reducing, and I finally slept," she says.
Dr. Mike reminded
the patient that the baby also went through trauma in the birth canal and
that she should consider bringing her in.
"I thought the
crying, the fussiness, the gas, the no poop was all normal for the baby
too, which was confirmed by all the pregnancy books, but it wasn't," says the
patient. "My husband and I sat in star-struck wonder as Dr. Mike adjusted our
less than two-week-old; he held her so carefully and delicately. She came
home, ate, pooped and slept like a happy baby."
Dr. Mike points
out that babies don't need the same kind of continual Chiropractic care as an
adult with an injury.
"If the baby
right from the start is super happy and healthy and doesn't need much, then the
frequency of care is so much less than an adult," he says. "One adjustment
could last months, versus an adult who's been injured and coming in multiple
times per week."
Dr. Mike loves
seeing children, and one of the reasons is because everything changes so much
faster than adults. "It's very satisfying that they get better so quickly."
A crash-course in Chiropractic
Dr. Mike was a
college student in Colorado when he was introduced to Chiropractic—the hard
way.
"I was doing some
crazier skiing stuff and landed on my head," he says.
As painful as it
was to be injured, he was impressed with how quickly his pain resolved after he
started Chiropractic care, something the muscle relaxers prescribed to him in
the emergency room couldn't do.
Because he was
finishing up his undergraduate degree in integrative physiology, the timing was
right for him to take the next step in his education with a new direction in
Chiropractic. He attended the renowned Palmer School of Chiropractic in Iowa
where he studied the Gonstead System of Chiropractic.
Gonstead differs
from other methods of Chiropractic in its analysis of patients and in the
adjustments themselves, focusing on just one vertebra at a time. Each visit
includes a temperature scan of the vertebrae to pinpoint areas of nerve
interference, which may lead to pain or inflammation.
Like all
Chiropractic care, the practice aims to help the body heal itself.
"The main premise
of Chiropractic care is to allow the body to heal itself by removing any
interference to the nerves along the spine," Dr. Mike explains. "When those
nerves allow your brain and body to communicate freely, your body is able to
work as it was designed."
No surprises
After "bouncing
around" the country following his graduation from Palmer, living in Idaho,
Oregon and Massachusetts, Dr. Mike and his wife settled in Bellingham.
"We love
Bellingham," he says. "We love the people; we love the mountains; we love the
ocean."
He also loves his
office right downtown at 1409 Cornwall Ave., where he started his practice in
2015, and he loves introducing people to Chiropractic care.
All new patients begin with an initial intake visit with full spine x-rays. Unless the patient is in terrible pain, Dr. Mike won't even do an adjustment on that first visit. At the second visit, Dr. Mike reviews the x-rays with the patient and begins to chart a course of action, and usually adjusts the patient, as long as they are ready and need to be adjusted.
"We go through
the entire process before we do anything, to make sure there are no surprises,"
he says. "If the patient is comfortable, we actually do the adjustment."
Dr. Mike says he not only sees patients of all ages but also with varied complaints, from neck and low back pain to numbness and tingling to gastrointestinal issues and beyond.
To learn more about his practice, visit the Ascend Chiropractic website.
Sponsored