Keep Your Body Happy This Summer with Orthotic Sandals from 360 Chiropractic in Lacey
It's sandal season. Some of us may be delighted. Others, like me, groan. We are all too ready to ditch our hot winter boots for some cute summer sandals, but we pay for our summer fashion with sore feet, back and even neck pain as these fun shoes provide no support whatsoever for our feet. Those that already have bad feet or back/neck issues might have learned long ago to forgo sandals for something more practical, and hot. 360 Chiropractic in Lacey can save your summer and allow you to wear sandals without sacrificing your health with orthotic sandals from Foot Levelers.
"Summer is finally here and if you are like me, you're so excited to ditch those boots and put on your flip-flops," shares Dr. George Olar, who owns 360 Chiropractic with his wife, Dr. Stefanie Olar. "A healthy alternative to the typical flimsy flip-flops or sandals is custom orthotic sandals by Foot Levelers."
Orthotic sandals help with postural alignment adds Dr. Stefani. And don't worry about fashion, Foot Levelers has plenty of stylish options to go with any summer outfit.
Custom Orthotic Sandals from 360 Chiropractic Look and Feel Great
We often sacrifice comfort for fashion, or vice versa. Flip-flops are just a thin piece of flat rubber material: you might as well be barefoot. They have zero arch support. With Foot Levelers, you can have fashion and comfort! Their custom orthotic flip-flops come in a range of colors and look just like regular flip-flops—so no need to tell your friends your feet are as comfy as if you were wearing bulky wingtips, but you'll know it with every step you take!
Their handmade orthotic sandals are made with their patented 3 Arch Advantage system, which supports all three of your foot's arches—bet you didn't even know you had three arches! Unlike those thin, soled cheap flip-flops found over-the-counter, these sandals have a high-quality mid-layer that provide shock-absorption for your heel.
"A lot of back and knee pain starts in the feet," explains Dr. George. "While we all love our sandals, it's no fun to end the day in pain. Not to mention the long-term effects bad shoes have on your entire skeletal system. Orthotic sandals give you the best of summer without the painful after effects."
Have trouble with flip-flops rubbing, your feet sliding around, even tripping you? Yeah, another price we pay for looking cool during the summer. But Foot Levelers custom orthotic flip flops are made to fit your foot, including custom fitting the straps, so they won't rub, slide or trip you up while protecting one of the most important things you have: your mobility.
Orthotic Sandals Let Those Suffering from Foot Issues Enjoy Summer Again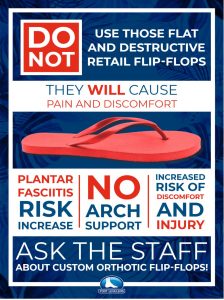 Chances are if you suffer from plantar fasciitis, flat feet, posture issues, or have knee, hip, back or shoulder problems—like me—you have given up on wearing sandals. I'm the girl in running shoes on the beach, constantly trying to pour sand out of her shoe and shake it out of her sock. It sucks. I can't walk in the ocean, unless I want wet socks. When I hang out poolside, I stick out like a sore foot.
Now, you can head into 360 Chiropractic and get fitted for a pair of Foot Levelers—it's quick and easy—and spend your summer the way you should, sockless! That's because their custom orthotic flip-flops can support those even with podiatric issues because they fit every curve and crevice of your foot. Supporting all three arches will have a huge effect on relieving pain in your back, hips, and knees as well. And the cushioning layer absorbs pressure from walking, helping those with ailments such as plantar fasciitis enjoy summer again.
"Like regular orthotic shoes, orthotic flip-flops can help improve your gait, relieving you of pain you may feel every day, even in your regular shoes," explains Dr. Stefanie.
Reasons to Wear Orthotic Sandals
If you aren't convinced these are the sandals your feet have been waiting for, Foot Levelers has the top five reasons to wear orthotic sandals compared to over-the-counter flip-flops:
Reason 1: Orthotic Sandals correct foot positioning. The sandals realign the feet with the lower limbs of the body to reduce stress in the ankles, knees and back.
Reason 2: Orthotic Sandals give ultimate comfort to the rest of the body. With these sandals, it is easier to walk all day and still feel relaxed. The body is given a solid foundation from the feet contributing to a very good posture and alignment of the body. Also, you will notice, it is quite easy to make strides with the orthotic arch support sandals as minimal strains are incurred to the arches of the feet.
Reason 3: Excessive pronation is hindered. Most of the orthotic support sandals come with a heel—cup kind of structure (e.g., Spenco Sandals, Vionic, Sole). The structure is basically designed to control motion and give you stability.
Reason 4: Comfortable, sturdy soles. The orthotics sandals that we carry have sturdy soles that protect your feet as opposed to the thin non-supportive sandals.
Reason 5: Get moving again and keep your feet cool. Before you had to wear walking shoes and custom orthotics if you wanted to walk any sort of distance outside when it was warm. With Orthotic Sandals you get the level of support your feet need for prolonged comfort and the benefits of staying cool!
Walking on hard surfaces is bad for your body. Walking on hard surfaces with a sandal or flip-flop that provides no support is even worse. Start your summer of on the right foot with a pair of custom orthotic sandals from Foot Levelers at 360 Chiropractic in Lacey. Call them at 360.923.0360 to learn more and start enjoying the sandal season once again.
360 Chiropractic
5101 Lacey Blvd SE, Lacey
360.923.0360
Sponsored