Loblaw to buy Lifemark chain of clinics for $845-million in Shoppers Drug Mart's push into healthcare
Lifemark offers range of services from physiotherapy to mental health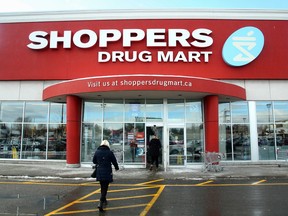 Article content
Loblaw Companies Ltd., Canada's largest food and drug retailer, is buying a top chain of physiotherapy clinics for $845 million as part of a plan to push Shoppers Drug Mart further into the healthcare business.
Article content
The acquisition of Toronto-based Lifemark Health Corp. will add 300 rehabilitation clinics to the Shoppers Drug Mart network, providing physiotherapy, massage, mental health and chiropractic services, Loblaw said in an announcement on Monday.
Loblaw, which bought Shoppers Drug Mart in 2014, has been eyeing the healthcare industry as a way to expand the business, with a plan to create a cross-country network of healthcare professionals all connected to patients through Loblaw's mobile app, PC Health —  named after the retailers' in-store brand, President's Choice. Lifemark patients have been able to book appointments using the PC Health app since last year.
"We want the PC Health app to be the first place Canadians turn when they have questions about their health or are in search of a healthcare professional," Shoppers president Jeff Leger said in November, when the company announced the initial partnership with Lifemark.
Loblaw has earmarked its "connected healthcare" plan as one of four main pillars for strategic growth, according to a quarterly update in February. In 2020, Shoppers spent $75-million on a minority stake in the virtual medical appointment platform Maple. And last year, the drugstore business became a key piece of the Canadian rollout of COVID-19 vaccines.
"In 2021, the rollout of tools, technology and centralized services allowed pharmacists to play an elevated role in the delivery of care, and the company saw over 172 per cent of growth in pharmacy services revenue," the company said in the Feb. 24 earnings update.
The Lifemark deal is expected to close in the second quarter, pending review from the Competition Bureau. "The acquisition of Lifemark adds to (Loblaw's) growing role as a healthcare service provider," the company said on Monday.
• Email: [email protected] | Twitter: jakeedmiston